There's no denying it, pain hurts. Psychological pain may be invisible, but to those suffering it inhibits your quality of life just like physical aches and pain.
In fact, emotional pain can lead to physical pain. According to the Mental Health Commission of Canada, by the time Canadians reach the age of 40 that 1 in 2 adults have (or have had) a mental illness? Also, one in five Canadians experiences a mental illness or substance abuse problem in any given year.
Cannabis is proving to be a healthy holistic treatment in combating unwanted symptoms associated with depression and PTSD.
Whether solely on their own, or in combination with other therapeutic treatments like yoga, talk therapy and prescription medication, certain cannabis strains are shown to be effective in reducing feelings of stress, sadness, and anxiousness.
As always, consult your doctor if you plan on incorporating cannabis into your therapeutic regimen.
Only you and your doctor will know how cannabis will affect your ECS and interact with any medications you are currently taking.
What is Psychological Pain?
Psychological pain shows up as various medical conditions like anxiety, depression, and PTSD.
This invisible pain is not biased and affects everyone: old, young, men and women.
Even though it is nearly 2022, the social stigma surrounding mental health is still quite prevalent.
There is so much to be said about not being able to get out of bed in the morning, or feeling afraid in social situations.`
Traditional Methods of Treating Psychological Pain
Some of the healthier methods of coping with and handling psychological pain like PTSD and depression are through talk therapy and stress-management programs.
However, there are times where pharmacological medications tend to be the only thing offered to patients who are suffering.
While using prescription medication can be a great thing to help manage depression and PTSD, there are some cases where a mood-stabilizer is only needed short term.
There is a huge issue in North America with overmedicating and over-prescribing prescription drugs.
In fact, a Harvard study showed that anti-depressants were the third most common drug takin in North America.
Combining holistic and traditional therapies to treat psychological pain can enhance recovery time and help restore homeostasis (mind/body balance).
Understanding PTSD
Life is full of ups and downs. We never know when tragedy might strike, and that unexpectedness is can cause serious issues.
Post-traumatic stress disorder is not just for veterans.
Experiencing loss or severe trauma can happen to anyone.
There are several symptoms of PTSD.
Let's take a look:
Negative thoughts
Intrusive thoughts
Negative self-talk
Feeling distant
Lack of interest in your favourite hobbies
Memory loss
Anger issues
Insomnia
Nightmares
Casting blame
Unable to feel positive emotions
Difficulty focusing
Self-isolation
Hypervigilance
High-risk behaviour
Top Cannabis Strains for PTSD
While your endocannabinoid system (ECS) is unique and cannabis strains affect everyone differently, there are some strains known to elevate your mood, reduce sadness, and promote an overall sense of well-being.
Here are some ideal cannabis strains for coping with PTSD:
CBD Lemon Potion
This mostly indica hybrid autoflowering strain by Barney's Farm flowers in 70 days.
CBD Lemon Potion is a cross between BF Lemon Kush and CBD Crew (an autoflowering CBD enriched strain).
Because of its impressive CBD content of around 15% and its low THC levels, this strain is ideal to reduce unwanted symptoms of anxiety, depression, stress and PTSD.
Pineapple Express #2
This mind-boosting strain can grow anywhere and it has a flowering time of 45-50 days.
Pineapple Express #2 enhances any dull mood with its citrusy flavours and resinous buds.
This is a perfect strain for beginner cultivators as it's very forgiving.
Pineapple Express #2 is an elite strain by Canuk Seeds and is perfect for zapping sadness, anxiousness, and stress.
Royal Purple Kush CBD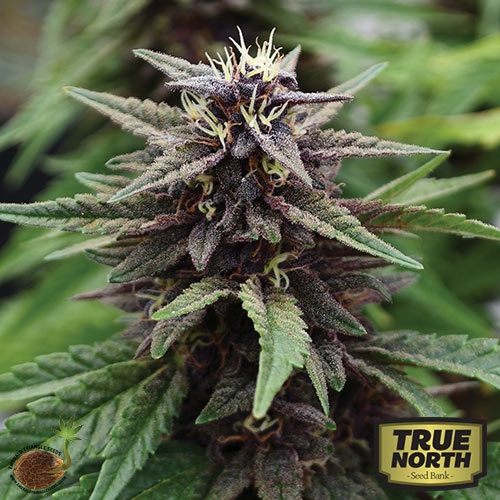 This is a powerful strain with impressive cannabinoid content.
Royal Purple Kush enhanced with CBD is an ideal cannabis strain for promoting happiness and reducing symptoms derived from stress, PTSD, depression, and anxiety.
Its parental heritage is derived from a cross between Black Afghani, Bubba Kush, and CBD Sativa and brought to you by Emerald Triangle Seedbank.
With a 3:1 CBD ratio, this potent indica-dominant cannabis strain is ideal for achieving mind/body balance.
Jacky White
Paradise Seeds has done it again with Jacky White.
This potent mostly-sativa hybrid brings an uplifting grapefruit aroma and impressive 15-18% THC content.
Known for its potent cerebral effects, Jacky White is a great strain to reduce mental chatter as well as PTSD and depression symptoms.
Critical Cheese
Critical Cheese by Dinafem Seedbank is a balanced hybrid and a cross between Critical and Cheese. Unlike the name suggests, this strain has a citrusy and sweet aroma.
With prominent indica effects, Critical Cheese is ideal for zapping symptoms of depression, PTSD, stress, and anxiety.
Understanding Depression
There are so many issues that can cause depression. Living in an unhappy relationship, working in a job that makes you unhappy, or even being unemployed are only a few examples.
This mood disorder can cause serious sadness among those suffering.
According to the Mayo Clinic's overview of depression, common symptoms associated with this mood disorder are:
Slow body movements and speaking
Anxiousness
Restlessness and agitation
Physical problems like headaches
Feelings of emptiness, sadness, and hopelessness
Lack of energy (small tasks require lots of effort)
Trouble remembering, making decisions, and concentrating
Thoughts of death and suicide
Top Cannabis Strains for Depression
Cannabis strains vary in phenotypes and potency, but there are some effects that tend to be present regardless.
Everyone has a unique experience with cannabis, so if you find something that works for you, stick with it.
Here are a few common strains known to zap anxiousness, and promote happiness:
Girl Scout Cookies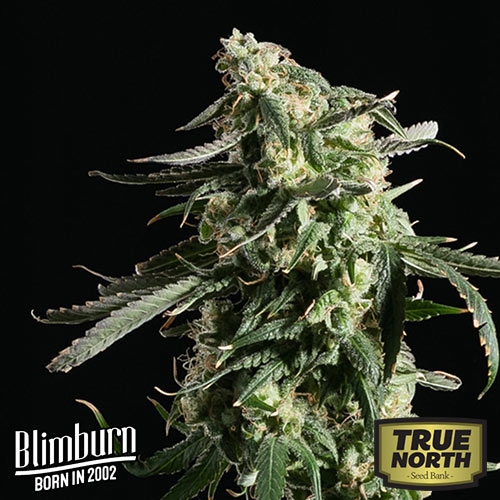 Blimburn Seedbank knocked it out of the park with their version of the Girl Scout Cookies cannabis strain.
Users say this plant grows dense nugs with sweet chocolate and earthy flavour and aroma.
Blimburn's secret sauce? Their take on GSC is a cross between Green Crack and Girl Scout Cookies.
Say bye-bye to unwanted idle chatter and whatever negative mindset you feel may be creeping in.
Dr. Greenthumb's Dedoverde Haze
Dr. Greenthub's Dedoverde Haze is a unique cannabis strain from the haze family.
Humbolt Seeds Org and B-Real of Cypress Hill are the minds behind this mood-boosting strain.
Thanks to the moderate CBD levels and high THC levels, this strain is known for calming the mind, relaxing the body, and promoting an all-around sense of well-being.
Blueberry Cheese
Blueberry Cheese autoflowering feminized strain from Barney's Farm seedbank is perfect for reducing symptoms of depression.
With THC levels ranging from 14-16%, this cannabis strain produces mostly-indica effects.
Depression and PTSD have incredibly uncomfortable symptoms like being sad or feeling anxious.
Blueberry Cheese is ideal for muting these unwanted feelings and promoting mind/body balance.
Vanilla Kush
Vanilla Kush by Barney's Farm is a cross between Afghan Kush and Kashmir. This potent mostly indica hybrid is perfect for enhancing mind/body balance and reducing negative mindset.
Feeling agitated? Try This strain.
With welcoming relaxing effects and a sweet aroma with a hint of spice, Vanilla Kush is ideal for zapping symptoms of depression, anxiety, and PTSD.
Acknowledgments:
Safer D. J. (2019). Overprescribed Medications for US Adults: Four Major Examples. Journal of clinical medicine research, 11(9), 617–622. https://doi.org/10.14740/jocmr3906

Smetanin, P., Stiff, D., Briante, C., Adair, C.E., Ahmad, S. and Khan, M. The Life and Economic Impact of Major Mental Illnesses in Canada: 2011 to 2041. RiskAnalytica, on behalf of the Mental Health Commission of Canada 2011.
Greer, G. R., Grob, C. S., & Halberstadt, A. L. (2014). PTSD symptom reports of patients evaluated for the New Mexico Medical Cannabis Program. Journal of psychoactive drugs, 46(1), 73-77.
Orsolini, L., Chiappini, S., Volpe, U., De Berardis, D., Latini, R., Papanti, G. D., & Corkery, J. M. (2019). Use of medicinal cannabis and synthetic cannabinoids in post-traumatic stress disorder (PTSD): a systematic review. Medicina, 55(9), 525.
Degenhardt, L., Hall, W., & Lynskey, M. (2003). Exploring the association between cannabis use and depression. Addiction, 98(11), 1493-1504.
Sethi, B. B., Trivedi, J. K., Kumar, P., Gulati, A., Agarwal, A. K., & Sethi, N. (1986). Antianxiety effect of cannabis: involvement of central benzodiazepine receptors. Biological psychiatry, 21(1), 3-10.
Russo, E. B., & McPartland, J. M. (2003). Cannabis is more than simply Δ 9-tetrahydrocannabinol. Psychopharmacology, 165(4), 431-432.
About the author: Heather Burton
Heather lives with her husband and two children in beautiful British Columbia. Her passion has always been to enhance the lives of others by helping them reach their business goals.
Content management is her specialty, and writing is what she does best. Working specifically in the cannabis market, Heather strives to help dispensaries, patients, doctors, manufacturers and recreational users by giving them the voice they need. When she is not writing, you can find her anywhere outdoors and away from the screen.
Last Update
2022-10-03 09:43:53