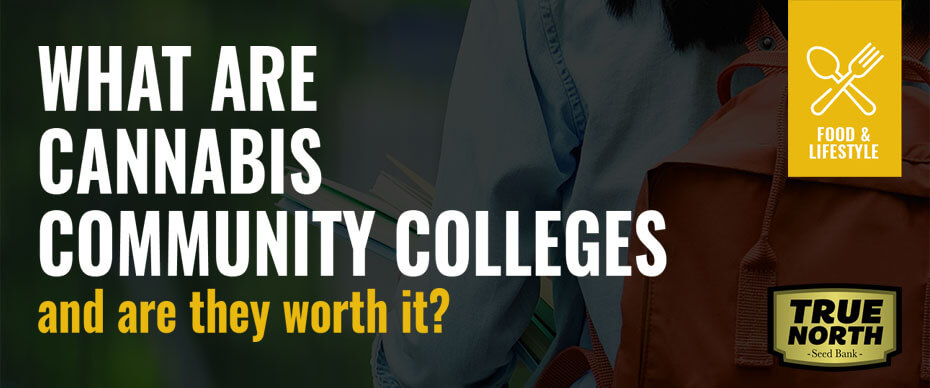 With the green rush picking up speed, the demand for skilled cannabis workers continues to rapidly increase.
Cannabis colleges are for-profits or nonprofits institutions offering cannabis-specific courses to pursue your career in the cannabis industry. They provide certified expert-driven programs spanning from business courses to regulations & horticulture. Now offering both online and in-person classes.
Keep reading if you want to know more about cannabis colleges. They indeed have the potential to land you a job in the cannabis sector.
Are Cannabis Colleges Worth It?
Cannabis colleges can be worth it if you're aiming to receive quick, affordable, and certified classes from the cannabis industry experts.
Several cannabis colleges, such as Oaksterdam - a combination of its location, Oakland and Amsterdam - don't require any qualifications to enroll for their courses.
Oaksterdam's policy encourages anyone, even criminalized people who want a fresh start, to begin their career in the cannabis industry.
The tuition fees differ according to your courses and the colleges you attend.
The fees may range from $400 for a one-day seminar to $2,000+ for a semester of 14-days.
Moreover, all cannabis academic programs are legal because they don't possess or sell cannabis to their students.
Yet, the schools have to keep up with any federal regulation changes to prevent any conflict in their research and activities.
Since there are multiple grey areas in the legislation, you must enroll in a cannabis institution that's reliable and trustworthy when pursuing your degree.
The lack of accreditation agencies for cannabis-specific higher education is both at the federal and state levels.
Therefore, the cannabis curricula offered by the colleges gain their reputations from word of mouth.
With no accreditation, employers may not differentiate which qualifications are trustworthy and beneficial or not.
To counteract this effect, public universities are now offering cannabis courses and degrees that follow regional accreditation.
Whether you choose a cannabis college or a public university accredited course, you should do thorough research on their graduation rates and job placement after graduation before applying.
What Can You Actually Learn At A Cannabis College?
Cannabis colleges offer certificate programs on business, horticulture, budtender, and much more.
Business classes cover the regulatory and management sectors of a cannabis enterprise, while horticulture training teaches you about the complex intricacies of cannabis agriculture.
The courses range from foundation programs such as 'Introduction to CBD' and 'Marijuana 101' to specific certificated programs like 'Safety Regulations' and 'Horticulture Specialist.'
Most cannabis colleges both offer online and in-person classes to suit needs and daily routines.
The Cleveland School Of Cannabis has online courses that take place via zoom.
Courses also delve into the history, biology, and chemistry of various strains of cannabis and their effect on recreational and medical use.
Most courses aim to prepare the students as chemists, botanists, and business people of the cannabis industry.
Other traditional universities like the University of Vermont provide a Cannabis Science And Medicine Professional Certificate that spans two months.
Moreover, Northern Michigan University offers a degree program in medicinal plant chemistry to train scientists with botany and analytical chemistry backgrounds.
With more than 230 enrollments in two years, the degree is among the most acclaimed qualifications.
How Can You Enroll In A Cannabis College?
With the number of cannabis college options continuing to expand operations, it can be challenging to identify the best place for you to receive the training you might need to be more valuable to your future employer.
Here are a few simple steps that you can follow to enroll in a cannabis college.
Choose the cannabis college that you are most interested in.
Go on the website and browse their offered programs to choose which one suits your interest. -- With a large variety of certificate courses, you will surely find one that matches your career.
Click on the course that you want to take. Several cannabis colleges have multiple options, including individual classes, course bundles according to your level of expertise, or you can take all of their programs available.
Add the programs to your cart. It should be noted that most cannabis colleges offer discounts on their courses or registration fees.
Proceed to checkout. You only need a means of payment, with the most common ones being via your credit card or PayPal.
Most cannabis colleges don't ask for official documents to verify your identity or previous qualifications before enrolling in their programs.
After completion, you'll receive an e-Certificate stating that you participated and passed the specific program.
In contrast, if you are interested in attending a traditional university, the enrollment process is very similar to the standard process of becoming enrolled in a university.
Depending on the registration procedures of a particular traditional university, you may be asked to provide your previous qualifications, an essay statement, identity verification, transcripts, and potentially much more.
Compared to cannabis colleges, public universities don't guarantee that you will be enrolled in their degree programs.
What Are Some Of The Best Cannabis Colleges?
There are several cannabis colleges on the market that enable you to learn at your own pace to suit your lifestyle and needs.
Cannabis colleges may be grouped into online and in-person colleges.
Below, we'll take a look at some of the top in-person and online cannabis colleges to help you decide what cannabis college best suits your needs.
Online Cannabis Colleges
Cannabis Training University (CTU)
CTU provides quality and comprehensive cannabis education for people across all nations.
Due to their online classes, students are not bound to living in legal cannabis states or countries to access their courses.
CTU also provides a 'Master of Marijuana Certification' that's recognized worldwide.
Their teaching staff are cannabis experts, including cannabis attorneys, cannabis horticulturists, medical cannabis dispensary managers, and cannabis chefs.
Cannabis Training Institute (CTI)
CTI offers courses for cannabis entrepreneurs, clinicians, and policymakers.
The institute provides educational resources that are delivered in an in-site learning system.
With hundreds of videos, animations, and quizzes, the programs enable students to retake as many classes as needed before taking the certification exam.
Green CulturED
Founded in 2012, Green CulturED provides learning solutions that connect you to cannabis experts.
Its mission is to provide training for more than 1,000,000 individuals to provide all the necessary knowledge to start a cannabis business.
Green CulturED also provides personalized e-learning according to your level of expertise and knowledge on cannabis.
In-Person Cannabis College Classes
Oaksterdam University (OU)
Since 2007, Oaksterdam University was one of the first cannabis colleges to open its doors for people pursuing their careers in cannabis.
With renowned instructors and award-winning cultivators, OU ensures that you gain knowledge only from the best of the industry.
The university is recognized worldwide, with more than 50,000 alumni across the globe.
Clover Leaf University (CLU)
Regulated by the Department of Higher Education Private Occupational School Board, CLU provides high-quality education to equip its students with cannabis skills.
CLU integrates best practice solutions in its curriculums that comply with cannabis regulations.
Striving to create more awareness about the potential of cannabis, CLU offers various courses to match your interest.

About the author: Joe Powers
After an incident in the military, in 2011, Joe Powers began investigating cannabis by talking with industry leaders. In 2016, Joe launched Hemp Writer with its first publication in clarifying disinformation on specific updates to certain federal CBD laws.
Upon calling out a leading cannabis law firm spreading dis-info, Hemp Writer established itself as an authority in clarifying updated information emerging from the cannabis industry. Joe continues charging forwards with increasing momentum to continue fulfilling his vision of SHARING ACCURATE CANNABIS INFORMATION.
Last Update
2022-10-03 09:13:45