Win Free Cannabis Seeds worth $100 Every Month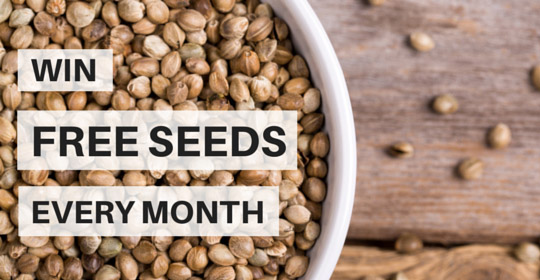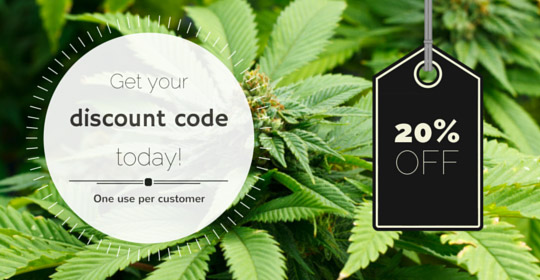 Subscribe to our newsletter for your chance to win free seeds worth $100 (CA$130) every month and get an instant 20% discount code.
SUBSCRIBE NOW!
Important Information
Please note: only one discount / coupon code applies per product. You will automatically be given the highest discount available for every purchased product.
True North Winners
Check out the list of our winners below. For your chance to find yourself on this list, get an instant 20% promotional code and take home $100 (CA$130) worth of cannabis seeds, sign up now.
| Month / Year | Winner | Prize (CAD) |
| --- | --- | --- |
| October 2023 | maybe you? | US$100 seeds voucher |
| September 2023 | Bryan | US$100 seeds voucher |
| August 2023 | Dave | US$100 seeds voucher |
| July 2023 | George | US$100 seeds voucher |
| June 2023 | Michael | US$100 seeds voucher |
| May 2023 | Rob | US$100 seeds voucher |
| April 2023 | Jeff | US$100 seeds voucher |
| March 2023 | Fred | US$100 seeds voucher |
| February 2023 | Danny | US$100 seeds voucher |
| January 2023 | Daniel | US$100 seeds voucher |
| December 2022 | Wally | US$100 seeds voucher |
| November 2022 | Bewar | US$100 seeds voucher |
| October 2022 | Lacie and Robert | US$100 seeds voucher |
| September 2022 | Susan | US$100 seeds voucher |
| August 2022 | Marius | US$100 seeds voucher |
| July 2022 | Timothy | US$100 seeds voucher |
| June 2022 | Travis | US$100 seeds voucher |
| May 2022 | Drew | US$100 seeds voucher |
| April 2022 | Rebecca | US$100 seeds voucher |
| March 2022 | Max | US$100 seeds voucher |
| February 2022 | Cynthia | US$100 seeds voucher |
| January 2022 | Andrew | US$100 seeds voucher |
| December 2021 | Richard | US$100 seeds voucher |
| November 2021 | Yvan | US$100 seeds voucher |
| October 2021 | Shannon | US$100 seeds voucher |
| September 2021 | Tyler from Canada | US$100 seeds voucher |
| August 2021 | Terence | US$100 seeds voucher |
| July 2021 | Terry | US$100 seeds voucher |
| June 2021 | Shelly | US$100 seeds voucher |
| May 2021 | Connor from Canada | US$100 seeds voucher |
| April 2021 | Darren | US$100 seeds voucher |
| March 2021 | Jonathan | US$100 seeds voucher |
| February 2021 | James | US$100 seeds voucher |
| January 2021 | Tyler | US$100 seeds voucher |
| December 2020 | Paul | US$100 seeds voucher |
| November 2020 | Marius | US$100 seeds voucher |
| October 2020 | Austin | US$100 seeds voucher |
| September 2020 | Raymond | US$100 seeds voucher |
| August 2020 | Harold | $100 seeds voucher |
| July 2020 | Cody | $100 seeds voucher |
| June 2020 | Glen from Canada | $100 seeds voucher |
| May 2020 | Emily | $100 seeds voucher |
| April 2020 | Nick | $100 seeds voucher |
| March 2020 | Kyle | $100 seeds voucher |
| February 2020 | Rob | $100 seeds voucher |
| January 2020 | Mitch from Canada | $100 seeds voucher |
| December 2019 | Francis from USA | $100 seeds voucher |
| November 2019 | Linda | $100 seeds voucher |
| October 2019 | Tori | $100 seeds voucher |
| September 2019 | Joline | $100 seeds voucher |
| August 2019 | John | $100 seeds voucher |
| July 2019 | Dan from Canada | $100 seeds voucher |
| June 2019 | Jermaine | $100 seeds voucher |
| May 2019 | Eli from Canada | $100 seeds voucher |
| Apr 2019 | Chris from USA | $100 seeds voucher |
| Mar 2019 | Carl | $100 seeds voucher |
| Feb 2019 | Chad | $100 seeds voucher |
| Jan 2019 | William | $100 seeds voucher |
| Dec 2018 | Alan | $100 seeds voucher |
| Nov 2018 | Sebastian from USA | $100 seeds voucher |
| Oct 2018 | Janine from Canada | $100 seeds voucher |
| Sep 2018 | Alberto | $100 seeds voucher |
| Aug 2018 | Jenn | $100 seeds voucher |
| Jul 2018 | Jenna | $100 seeds voucher |
| Jun 2018 | Leo | $100 seeds voucher |
| May 2018 | Ann from Canada | $100 seeds voucher |
| April 2018 | Amy | $100 seeds voucher |
| March 2018 | Jay | $100 seeds voucher |
| February 2018 | Jeff from Canada | $100 seeds voucher |
| January 2018 | Janice from USA | $100 seeds voucher |
| December 2017 | Stephen | $100 seeds voucher |
| November 2017 | Douglas from USA | $100 seeds voucher |
| October 2017 | Wendy from Canada | $100 seeds voucher |
| September 2017 | Adam | $100 seeds voucher |
| August 2017 | Wayne from Canada | $100 seeds voucher |
| July 2017 | Dakota M. | $100 seeds voucher |
| June 2017 | Paul W. | $100 seeds voucher |
| May 2017 | Brian from USA | $100 seeds voucher |
| Apr 2017 | Frank | $100 seeds voucher |
| March 2017 | Abe from USA | $100 seeds voucher |
| February 2017 | Eric | $100 seeds voucher |
| January 2017 | Paul W. from Canada | $100 seeds voucher |
| December 2016 | David R. from USA | $100 seeds voucher |
| November 2016 | Jane S. from USA | $100 seeds voucher |
| October 2016 | Budd G. from USA | $100 seeds voucher |
| September 2016 | Stéphanie D. from Canada | $100 seeds voucher |
| August 2016 | Diana D. from USA | $100 seeds voucher |
| July 2016 | Chris K. | $100 seeds voucher |
| June 2016 | Andre W. from USA | $100 seeds voucher |
| May 2016 | Bruce S. from USA | $100 seeds voucher |
| Apr 2016 | James A. from Canada | $100 seeds voucher |
| Mar 2016 | Philip P. from USA | $100 seeds voucher |
| Feb 2016 | Quinton D. from USA | $100 seeds voucher |
| Jan 2016 | John S. from USA | $100 seeds voucher |
| Dec 2015 | Michael from USA | $100 seeds voucher |
| Nov 2015 | Jayson from Canada | $100 seeds voucher |
| Oct 2015 | David from USA | $100 seeds voucher |
| Sep 2015 | Jason from USA | $100 seeds voucher |
| Aug 2015 | Steve from Canada | $100 seeds voucher |
| July 2015 | Shayne | $100 seeds voucher |
| June 2015 | Mark from Canada | $100 seeds voucher |
| May 2015 | Steve from Canada | $100 seeds voucher |
| April 2015 | Anthony from USA | $100 seeds voucher |
| March 2015 | Christopher from USA | $100 seeds voucher |
| February 2015 | Debby from USA | $100 seeds voucher |
| January 2015 | Rob from USA | $100 seeds voucher |
| December 2014 | Eddie C. from USA | $100 seeds voucher |
| November 2014 | Jamie K. from Canada | $100 seeds voucher |