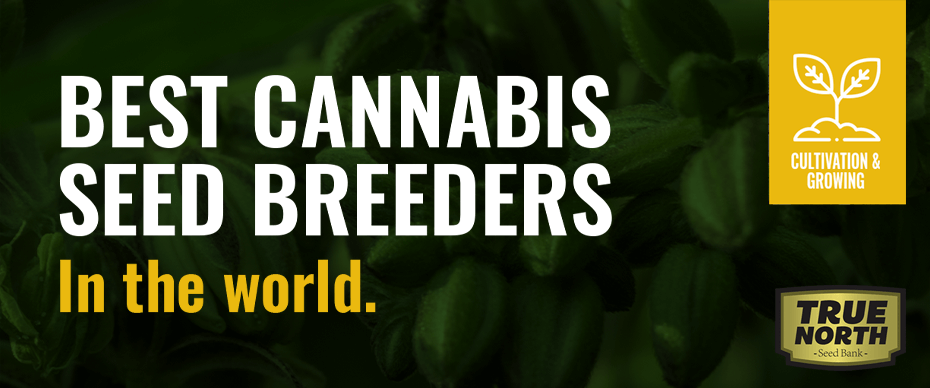 With a nearly endless amount of cannabis strain genetics circulating throughout the world, certain cannabis breeders are responsible for some of our most favorite varieties.
David Paul Watson brought us Skunk #1, DJ (Daniel John) Short created several varieties, Ben Dronkers bred the Jack Herer strain, Josh Del Rosso is the OG Kush originator & specialist, and last but not least, we feature Gilbert Millam, Jr for his Girl Scout Cookies.
Below, we have the honor and privilege of featuring some of the most well-known and biggest contributors to the cannabis industry. Through seed breeding experiments, they created some of the most exciting cannabis genetics around the world.
Let's dive in and see what we can learn about the famous historical figures and their phenomenal seed genetics.
Best Seed Breeder Overall
The best seed breeder on our list goes to David Paul Watson, also known as "Sam the Skunkman."
In many ways, Watson is the most fascinating figure in the cannabis sector due to the different conspiracy theories that surround him.
His career started in Santa Cruz California, where he connected with two of the pillar breeders in the history of cannabis- the Haze Brothers and Sacred Seed Collective.
He has also collaborated with GW Pharmaceuticals to create Epidiolex, the first FDA-approved cannabis-based medicine.
Watson became famously known for his new seed called Skunk #1.
As the name suggests, this strain is named after its smelly scent.
With its rise in popularity, some misconceptions emerged, stating that a smellier weed provides a better high.
Watson created Skunk#1 for indoor cultivation, hybrid experimentation, and early flower yield.
The plant was created in the 1970s and is a hybrid of Afghan Indica, Mexican Sativa, and Colombian Gold Sativa.
In contrast to people's claims, Skunk#1 does not contain a large amount of THC.
In fact, the strain only contains 15-19 percent of THC.
Besides, this strain is a growers-favorite for its fast and high yield compared to other hybrids.
Skunk #1 provides robust seedlings and is beginner-friendly due to its ease in cultivation.
Sadly, the over-sensationalization of Skunk #1 resulted in backlash from news outlets, especially in the UK.
However, despite the backlash and stigmas associated with the strain, Watson had laid the foundation for further research in genetic modifications for new strains.
Best For A Variety Of Seeds Available
DJ (Daniel John) Short is the iconic, almost fictional figure in the world of cannabis breeding for his remarkable contributions to the cannabis industry.
He developed a large variety of seeds, including the Blueberry cannabis strain and other classics.
His journey began in his teenage years where he started buying cannabis seeds.
Gradually his collection grew, along with his precise recording of the plant's traits and their required conditions.
When he moved to Oregon in 1973, he purchased a cereal box that came with a plastic seed sprouter.
Fascinated by the process, he accommodated a 16-square-foot closet for experimenting and breeding his own strains.
DJ Short kept mixing Indica and Sativa species to produce famous varieties, namely Blueberry, Flo, Blue Velvet, Azure Haze, and Vanilluna.
His unique twist on mixing both the new and old genetics sets the bar for other cultivators.
DJ Short generously shared all of his secrets in 2003 in his book titled "Cultivating Exceptional Cannabis: An Expert Breeder Shares His Secrets."
His passion for innovative breeding landed him in the High Times Seed Bank Hall of Fame to highlight his contributions to the cannabis industry.
Best For Newbies In The Seed Breeders World
Ben Dronkers is entirely famous for his fantastic contribution to the cannabis industry by providing us with the legendary cannabis seed genetics named after one of the most popular cannabis activists in history.
Without requiring too much of an introduction, Ben Dronkers created the famous strain name after the historical all-time influential activist Jack Herer.
Jack Herer's cannabis genetics, carefully handcrafted by Ben Dronkers, is an incredible Sativa dominant strain yielding up to 17% THC.
First created in the Netherlands, this pine-scented strain has tasty spicy undertones and aromas.
The Jack Herer strain was created by crossing three different strains including Haze, Northern Lights #5, and Shiva Skunk.
Consumers report a consistent sensation of an incredibly clear-headed high with elevated euphoric blissful sensations that also stimulate the creative juices to flow without restriction.
Many users prefer Jack Herer as their everyday go-to strain for its ability to give them energy while helping them focus on their work without slowing down productivity.
If you're looking to smoke this strain and go to bed, you'll find yourself doing anything but falling to sleep, as this strain is repeatedly reported by users as a great addition to their morning wake up and get going routine.
Ben Dronkers knocked it out of the ballpark when he created this lushes strain in the mid-1990s, and users keep showing ample amounts of gratitude for his contribution to the cannabis industry ever since.
Best For Experienced Growers
Back in 1996, Josh Del Rosso started making a name for himself as an OG Kush specialist.
Before OG Kush was shared with the world, it was a well-kept and highly guarded secret to the local Florida cannabis growing community.
Once developed, OG Kush was shown to be a difficult strain to grow due to its sensitivity to light and demanding delicate nutrient requirements.
Not only is OG Kush sensitive to light and nutrients, but it also has a high susceptibility to pests and the subsequent regulations thereof.
Eventually, Josh Del Rosso decided to come out to the world and share his carefully guarded precious secret strain with the rest of the very hungry cannabis community.
Experienced growers are constantly and aggressively seeking unique seed genetics to satisfy the ever-changing need to experience a wide variety of interesting cannabis strains.
Once Josh Del Rosso shared his secret Kush strain, he branded his strain as the "OG" standing for the original Kush strain.
OG Kush got its name from the potent aromas emanating and filling your nose with pleasure.
Its shorter flowering cycle produced a unique diamond-like shine yielding oily trichomes.
After Josh first experienced his amazing creation, he knew instantly he had something very unique and unlike any strain, he's ever experienced.
Best For Frequent Buyers Of Seeds
Gilbert Millam, Jr made his name with his unique creation of the famous Girl Scout Cookies cannabis strain.
This amazing creation was forged by crossing two very well-known seed genetics of OG Kush and Durban Poison.
A High Times Cannabis Cup award-winner, Girl Scout Cookies is a hybrid Indica dominant strain averaging 19% THC.
Its unique colors vary depending on several factors and can produce either an emerald green, deep purple, or fiery orange on its fine hairs.
Consumers are obsessed with the particular seed varietal due to its strong cerebral euphoric effects plus a nice overall full-body sensation of total relaxation.
Users report its flavor profiles are both sweet and quite pungent, with varying hints of either lemon, cherry, or mint.
With such deep earthy aromas upon first opening a ripe bag of freshly picked buds, the endearing aromas stimulate the nose triggering even as much excitement in the actual partaking of such this extraordinary strain.
About the author: Heather Burton
Heather lives with her husband and two children in beautiful British Columbia. Her passion has always been to enhance the lives of others by helping them reach their business goals.
Content management is her specialty, and writing is what she does best. Working specifically in the cannabis market, Heather strives to help dispensaries, patients, doctors, manufacturers and recreational users by giving them the voice they need. When she is not writing, you can find her anywhere outdoors and away from the screen.
Last Update
2022-10-03 09:16:24